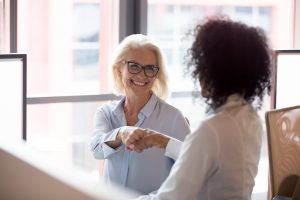 You've Got Questions, Here's Who to Contact for Idaho Health Insurance Questions
What do you do when you have looked through the Your Health Idaho website, but you still have questions? Contact the experts who are here to help you find exactly what you are looking for. Here's a list of who to contact for Idaho health insurance questions.
Do you have questions about health insurance coverage options?
Speak with one of Your Health Idaho's certified agents, brokers, or enrollment counselors from across the state at no cost to you. Agents and brokers can walk you through the process of navigating your health insurance options, shop for the plan that fits your lifestyle and needs, compare plans, and purchase the plan that is right for you.
Enrollment counselors are trained to help you understand your options and walk you through the process but cannot make recommendations about which plan to buy. You can find agents, brokers, and enrollment counselors in your area here.
Do you need to know about Medicaid, Advance Premium Tax Credits, or other assistance programs?
Contact the Idaho Department of Health and Welfare. The department and its programs and services are designed to help people live healthy lives and be productive, strengthening individuals, families, and communities.
The Idaho Department of Health and Welfare will determine your Advance Premium Tax Credit (APTC), cost-sharing reduction, and Medicaid eligibility. You can reach the Idaho Department of Health and Welfare on their website or by phone at 1-877-456-1233.
Do you have questions related to your current health insurance plan?
Your health insurance carrier, the company that holds your insurance policy, can answer your questions regarding your monthly premium, payment discrepancies, discontinuation of coverage due to non-payment, administration of benefits, current or open claims, and more.
All plans offered through Your Health Idaho meet the high standards of state and federal requirements and is required to cover ten essential health benefits, including:
Doctor Visits
Hospital
Emergency services
Mental health and substance abuse services
Rehabilitative services (like chronic disease management)
Maternity and newborn care
Laboratory tests
Prescription medicine
Preventive wellness and screenings
Pediatric care (includes oral and vision health)
 Who to contact for Idaho health insurance questions not covered above
Are your questions related to applying for coverage without APTC, Special Enrollment Periods, enrolled household members, reporting changes in households without APTC or disenrolling from your coverage? Contact Your Health Idaho.
Your Health Idaho can assist you in navigating what Qualifying Life Events are eligible for Special Enrollment Periods, how to report changes such as household size, income, marketplace eligibility, address, or other special circumstances, and how to disenroll from coverage.
To contact Your Health Idaho, visit our website at yourhealthidaho.org, submit a request for customer support, or give us a call at 1-855-944-32746.
Whatever your situation, whatever your questions, we are here to help.