Outreach
At Your Health Idaho we know that when it comes to important decisions like health insurance, Idahoans want to talk to their friends, neighbors, and trusted community resources. That is why we have built an Outreach and Education program that seeks to work with our community partners around the state and give you the tools to help your patients and clients make informed decisions about their health insurance coverage.
Your Health Idaho is here to support your events and provide you with print materials, presentations, and social media content. We want to develop engaging, informative experiences and we love to work with our community partners to find effective ways to serve Idahoans. Learn more about how your organization can partner with Your Health Idaho below.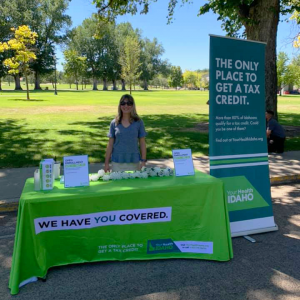 Events
The Your Health Idaho team attends events around the state. From health fairs to sporting events, to marathons and farmer's markets, we are happy to provide information and talk with participants about Your Health Idaho and their options for health insurance.
Educational Classes
In addition to our general information courses that focus on how and when to enroll, Your Health Idaho can offer educational classes that are tailored to your organization's needs.
Informational material
Your Health Idaho can provide you digital and small batch printed materials to share with your patients and customers. You can choose from a variety of existing materials or speak with our team about creating a custom piece. In addition, we also have an Open Enrollment social media toolkit that we encourage all our partners to utilize. On our website, you will find links to our social media kit and electronic materials and a link to an order form for printed materials.
Your Health Idaho is here to help you inform and engage your stakeholders. If you are interested in learning more, or would like to work with Your Health Idaho, please contact Outreach@YourHealthIdaho.org.